As a leading construction company in Guernsey, we are proud to offer many professional career opportunities in the local construction industry to school leavers and graduates. Finlay is one of our Trainee Quantity Surveyors and has worked at Rihoy & Son for over 2 years. We asked Finlay a few questions about his role at the company and what made him interested in quantity surveying as a career.
Tell us a little about yourself
I am 23 years old and I was born and raised in Guernsey. I completed my A-Levels at Elizabeth College and then spent 3 years in the UK studying Building Surveying at University of Brighton. Outside of work I enjoy football, golf, fishing and spending time with my family and 8-month-old Italian Spinone.
What exactly is a Quantity Surveyor? And what first attracted you to working for Rihoy & Son?
Quantity surveyors manage the procurement, supply chain and cost of construction projects.
I was interested in working for Rihoy & Son because they are one of the biggest contractors on the island. They work on a very diverse range of projects, from renovations and extensions, to new builds and refurbishments, to some of the largest contracts in Guernsey, every project is interesting and demanding in its own way.
What skillsets are needed to be a successful QS?
Successful QS' need to be organised, proactive, have strong numeracy skills and above all else, be able to work well in a team. Currently I am part of the site team at the Princess Elizabeth Hospital Modernisation Project, working in a live hospital environment can pose it challenges, and it is clear to see that communication with the client team, site team and subcontractors has been key to its success so far.
What are the 3 best things about working for Rihoy & Son?
It's great working alongside highly experienced people that are passionate about their work. This makes the environment brilliant for learning and developing my skills.
Further to this, the company operate very much as team. There's good camaraderie and banter whilst maintaining a high professional standard, which is reflected in the successful delivery of our projects.
Last but not least, the Sports & Social Committee! Rihoy & Son host a number of great staff events and activities, my favourites being the summer party, the James Bond casino night, and the annual trips to Sark.
How has your role developed /changed since you started? Have you gained more responsibility with projects?
My job started in the estimating department which is where I learnt the roles and responsibilities of Quantity Surveying. I am now working on site as the assistant QS at the Princess Elizabeth Hospital Modernisation Project. The project is complex and challenging but seeing the progress on site is very rewarding.
What advice do you have for someone wanting to get into this sector?
Experience! I would advise anyone currently in education to consider getting work experience with Rihoy & Son or to explore options working part-time for a building company. I really benefited from doing work experience at Rihoy & Son when I was at school, along with spending my summer holidays working for another contractor, it really cemented my interest in the local construction industry.
Are you studying towards a professional qualification and if so how are you being supported in your efforts?
Currently I am acquiring on-site experience before looking to start my application and training to become a member of the Royal Institute of Chartered Surveyors & a member of the Chartered Institute of Building. Rihoy & Son have a number of staff who are fully qualified in these fields and have offered support and guidance for the process.
What's your favourite part of the job?
No two days are ever the same. The workplace is fast-paced and engaging, with everyone having the same goal to deliver a project on time whilst also providing the best possible quality build and service. I also really enjoy the mixture of working in an office and on-site, it allows me to meet a variety of new and interesting people almost every day. Further to this, it is very gratifying being involved in shaping the built environment of Guernsey.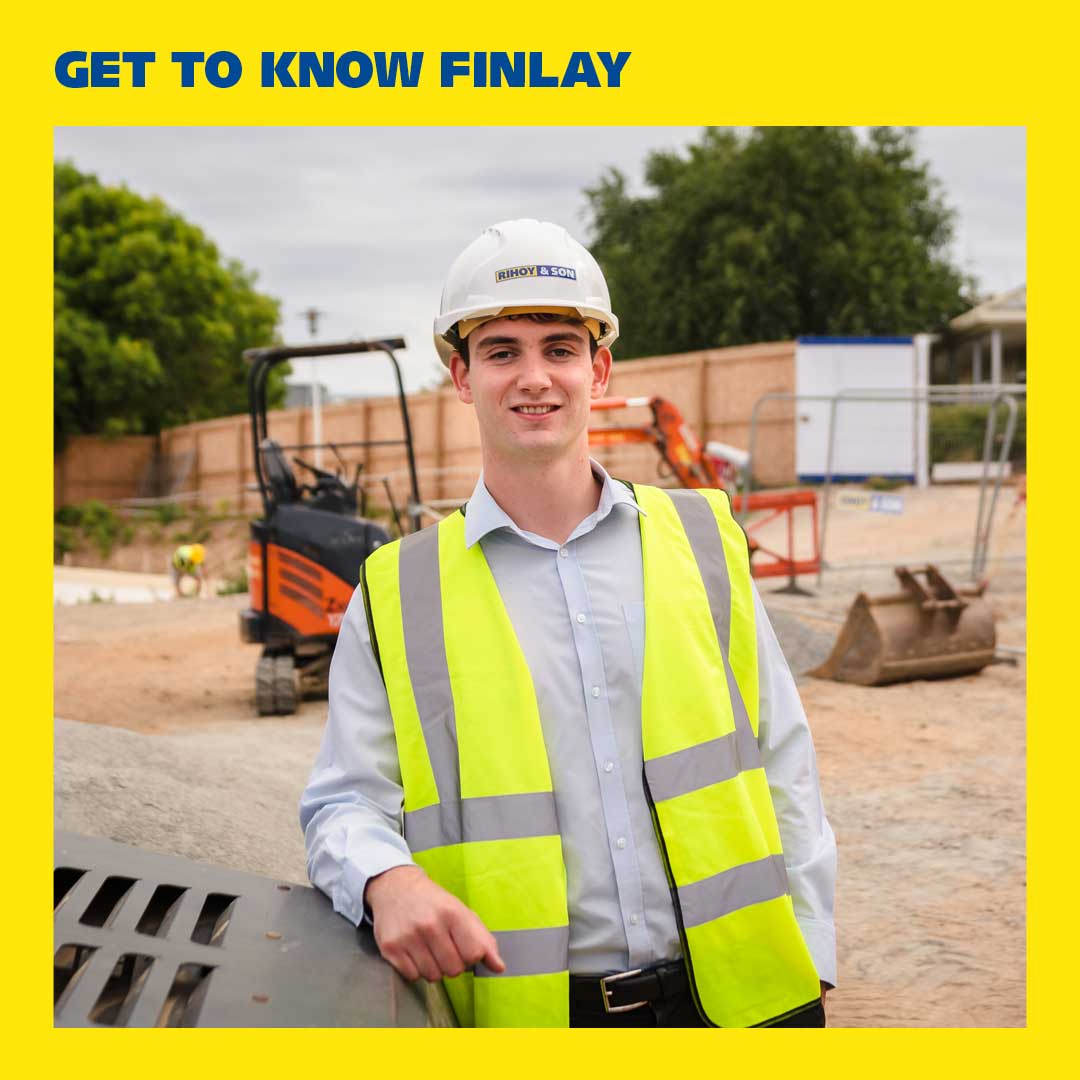 Posted: 15 August 2022